Chapter II: Fabulous! Great! Amazing!
Keywords: life, confusion, progress, proletariat, racism, food terror, freelancer, begging
​
The multidisciplinary work is a fictional tale about alternative possible future where future proletariat is fiercely seeking for handlebars to grasp to stay aside from the constant economical insecurity. It might create a document of current way of dealing assets among large amount of baby birds that wish to get a load of puke from their eternally returning mother. These experiences shall be donated to the deepest cave in Finnish base rock among all the global nuclear waste that is welcomed to be hosted during our endless flight towards new stars.
​
This work was initiated by Flamboyant Tahini Enterprises. It was commissioned and bought as part of 1917 collection and adjusted to fit 1947 glory.
Under construction
​
Bauarbeiten im Gange
​
rakenteilla
​
בתהליך בנייה
Q: How does it feel to be under construction?
A: Actually quite nice.
Q: Can you tell me why?
A: Well when something is not finished, there are still space for additions. But as I decide that I am ready, I have to hold what I have.
Q: What do you mean with that?
A: I enjoy the unfinished quality, the work in progress mentality, maybe even the idea that I will never be ready. Therefore I am always under construction. I want to refine the structure to the finest detail with time and even forget that I was doing something.
Q: But how about the ever increasing costs of the project?
A: I have spent a fortune and I will spend another.
How to start a Progress Bar?
​
AP: "how is your German progressing?"
Dan: "Schlimm!"
It is not a shame to be under construction along with these projects. We all reach for the sky!
​
​
According to some estimates, Olkiluoto reactor could be the fifth or sixth most expensive structure in the world,[citation needed] even more expensive than the Large Hadron Collider in Switzerland.
​
​
According to some estimates, Bad Research could be the most expensive data structure in the world, [no need for citation] even more expensive than the secret data collection of Swiss truth seeker scientist Fritz Basel.
AP: "JUST JA JA NEIN NEIN?"
Dan: "It does not look like it but my life is a mess!"
AP: "Say yes to some things, no to others!"
WHAT DO WE NEED FOR THE FORMATION OF THE TERRORIST PARTY (UTBR) in Madrid?
For the top floor: one Scroll, TV or projector, table and balloons, sofas.

For the lower floor: a sound system, table, SCARY SOUNDS

A REAL WAVER

A FAKE WAVER

Outside activities - improvised
"I think the Spanish people will like our art", AP Leinonen, February 25, 2017
WHY DO PEOPLE WANT TO JOIN OUR PARTY? The funnier the reason, the better. UTBR = United Terrorist of Bad Research,

Find a shower, and stay at the gallery!

The exhibition would consist A display of Chapter I and a live formation of chapter II

FOR INTERROGATION: food menu, funny objects, scary sounds, tents, Hebrew and Finnish sound bites, People would be interviewed and shown from their back, and then their video video would be screened. VINCEnT VaN GoD IS BACK. In addition, They would have to eat Tahini and listen to radio plays. If you agree to shower in Tahini - you win!
​
Juxtapose / Mix / Combine / Overlay / Play
Bad Research: Let's Make France Great Again
​
For two week Bad Research has the will to experiment on a performance that has characteristics of a pseudo-academic, economic self-help presentation. We will arrive with a mission that will be executed during the stay in the city. The mission is totally fictitious and the course of the storyline will be influenced by the discoveries, stories and the people who we meet, which will be integrated as part of the story as events, truths, and fictitious characters.
​
We are top class consultant alliance of Finnish and Israeli business thinking. We do bad research and we consult our partners. We build ideas. We want to share our ideas with our business associates. We have you and your country in our mind. We have witnessed that your country is not free anymore. We approach you with a great offer: we produce you an unforgettable life-changing experience — a presentation how to liberate your country from raging "intellectuals" that has caused your country to gradually lose its reputation as a blissfully ignorant country. They argue that the world is not black and white! We have noticed that many other countries have accepted that there is not space for wise people in governing positions, so called "intellectuals" who want to dictate our moral, ethics and prevent our freedom to do whatever we want as liberated consumers. We need to reshape the history and turn off the lamp of Age of Enlightment.
​
The transformation begins with you! Yes from the individual! You first need to become dumb to encourage other people around you to get dumb too. And soon everyone is dumb together. Your city can be the pioneer of the new age. Don't worry. We will show you how and we will write the instructions for the prosperous future. Let's make France great again!
​
The work is created and written within the fine borders of public space and stage. The public space works as a source of inspiration as we engage with site and local people through interventions, conversations, or by doing site-specific research. The activities on stage will work as a conclusions of the research and unifying the transdisciplinary approaches and multitude of material. It has the characteristics of real-life event that is hoax but pretends to be real where we guide interaction through playing our fictitious roles and we gather input from spectators. The results of the work is open and it is totally acceptable, if the initial plan changes to something else during the period. So called "research" will be made available as a separate internet page as "an interactive scroll" to lighten up the motives and the backgrounds of the fictitious world where we are moving and creating. We are putting ourselves on the stage, and we include the world around us to be part of the comedy we create. It is a collection of banal anecdotes and surprises. Work is not meant to be cohesive, but rather complex and requires effort from spectator to get lost in to the world of bad research. The documentation of the performances and interventions become part of the overall story.
​
Dear All,
You have submitted an application for the ..... performing arts and transmedia grant and we thank you for your interest in ......_European Centre For Artistic Creation. We've received 203 application from all over Europe and the world for the performing arts and transmedia grant that will award 3 projects ! We've studied all 203 applications, all very interesting, would it be from the individual point of view but also in the overall image that immerges from all in terms of decompartmentalization of disciplines, the more complex elaboration of transmedia architecture or apparatus (particularly participatory ones), etc.
We've read your proposal with great interest.
Unfortunately, the large number of received applications has forced us to make difficult choices and we were finally unable to select and keep your proposal. It's not possible for us to make a personalized and detailed answer for each application, but if you wish to have details or exchange with us, do not hesitate to write to us.
Please continue to inform us about your activities ! Good luck and success in your projects.
Bad Reaserch: Walking the Kierkes of Gaard
Project proposal
We are two existentialist private investigators who will arrive to your city with a mission. Before we enter your country we have executed an initial bad research concerning the stereotypes and anec- dotes about your country. Encouraged by this information we arrive to your country with a status of an undisputed experts. We will explore the city and reveal the hidden secrets that you have ignored all these years. We will present them to you in a form of an situation that will get its form and content from the discoveries in the site. Also we will conduct an interactive bad research scroll about the expedition to our collection of bad research (www.bad-research.com).
Our initial trail is world known criminal Kierkegaard who is haunting innocent women somewhere in the streets! We need to nd him before its too late!
​
Dear
We have received your application for the open call for8------------. We thank you very much for your interest and the time you have put into informing us about your work, which we highly appreciate. We have received close to 600 applications. Unfortunately we have decided not to go further with your proposal.
​
Because of the amount of applications received, we are not able to give personal feedback. However, we would very much like to stay informed about your work, so please add us to your mailing list. We have also added you to our mailing list to keep you informed of our Metropolis activities.
​
We wish you a lot of success with your work, and stay in touch.
Best regards,
Bad Reaserch: Ratakatu 12
Project proposal
Ex-president of Israeli Secret police, Kyösti Cohen, has betrayed his country and escaped to Fin- land. He holds a long time lost evidence about most horrifying terrorist attack in the human history of terror. The information he is about to reveal is the scriptures about the case: Sampo שמש Sam- mas Shemesh - Towards the New Temple, where confused and delusive Finnish eco-terrorist Aya Hauska tries to terrorise everyday life of Israel by planting a tree in Jerusalem in good faith to give a birth to a new religion. According to Fritz Basel, 99-year old creationist scientist from Switzerland, everything is still ne in Israel and the sediments of the great ood can be still found, if eyes are kept happily closed, although the terrorist attack was seriously affecting the local biodiversity causing a birth to a new form of psychosis. Most of the authorities are still asleep.
​
The scriptures are about to be displayed for the rst time in its exhaustive authority near Finnish secret police headquarters. This incident serves as curious sneak peak into world and motives of a terrorist organisation. Nobody is sure whether this is just an exhibition or an attempt to recruit more members to a terrorist party or a trap by Finnish secret police to gather suspicious information about new possible radicals. And most of all nobody knows whether Kyösti is a secret agent spying Finnish assets or he is another con-artist with his Finnish business associate?
Exhibition
​
We propose two weeks exhibition time. Preferred months April, May, July. Others negiotable.
The gallery space will be furnished into a terrorist headquarters with green coloured balloons, cam- ou age, 18 kg of tahini, and proper propaganda audiovisual material provided by the Eco-terrorist. The scripture containing the research material of the events of Sampo שמש Sammas Shemesh — Towards the New Temple will be hung the walls. People are invited to join the terrorist party. Several related performances will be held during the exhibition.
​
Hi and thank you for applying to

We have received a lot of submissions, and unfortunately couldn't accept everybody.

This year we didn't accept your application, nevertheless, your project sounds very interesting so don't hesitate to stay in touch, keep us updated on your projects and apply again for the next open call.
Best Regards,
​
​
Bad Reaserch: Two Many Flew Over Cuckoo Nest
​
Project proposal
We are two ex-generals, now happily retired, fought several wars, and waiting to die due there was not a bullet or bomb wise enough to hit us. We have come to share you our experiences of war. We have no real experience due we have always been fighting from behind consoles and tv screens. Our trauma is distant imaginary trauma. We have no real understanding of war, but our actions have been causing war. Our way of life and our will to protect our way of life causes war behind our backs, somewhere else, according to 99-year-old Swiss creationist scientist Fritz Basel.
​
We will sit and tell you how we feel. We will invite you to tell us, due we are also well known psychol- ogist researchers, about your trauma. We will interview you and draw pictures about your struggle. We will make videos about this madness. We will write music about your haunting memories and we will compose all this into a scroll that will be part of our significant Bad Research series. This scroll contains hot well crafted fake truth.
​
We will explore the public space, talk with people and ask them to describe their imaginary trauma about war. We will finnd like real private investigators a real person who has ed from war and let her describe us how it is. She or he will put us to experinence that hell. All this will be distilled into a form of a performance and exhibition where collected and created material will be exhibited. We will create a situation that we conduct and ask participants to spend time with us. It hopefully will be a traumatic experience.
​
This work is heavily inspired by the place where it is executed.
​
Hi!
Nice talking to you on the phone,
So after reading your proposal, we decided that we would love to have you and Dan over here in
The residency will start on monday 11th of September 2017 and will last 8 weeks. A first public exhibition/performance of the project is planned on the 3th of November 2017.
I would need your comfirmation a soon as possible!
Bad Research: Talking on Water
Israeli science reporter An Daluz has heard a curious anecdote — ice age has ended in Finland and fresh water lakes have finally melted for the foreign investors. He travels to the land of thousand lakes to conduct a research for notorious consultant firm Bad Research that has been accused for frauds and bad research. His intention is to interview all the thousand lakes and reveal the real essence and price of water. The secret information will be revealed in a secret meeting where rituals and entrance fee will scare away few.
Fictitious character An Daluz (Dan Allon) together with 99-year old Swiss creationist scientist Fritz Basel (Ari-Pekka Leinonen) will conduct pseudo-research discovery in the city of Kuopio.
Bad Research: 200
​
Dear!Luca Curci, dear Andrea Chinellato,
We were very happy to see your open call. We are a due of artist, Dan Allon (Israel, lives in Berlin) and Ari-Pekka Leinonen (Finnish, lives in Helsinki), and we have a rolling project called http://www.bad-research.com.
Your open call feels perfect for our work, as we deal totally with the theme of liquidizing our identity, putting on characters, masks, genders and roles, all portrayed by us.
​
Here you may find more information about us:
We would love to exhibit in your exhibition the videos we have created for this project so far, which can all be found in homepage the link of our website, along with writings, sound and drawings.
In addition, please find more images and CVs attached to this e-mail.
Thank you for taking the time to consider out proposal, and we hope you would find it relevant. We look forward to speaking.
Thank you,
Best,
--
Dan Allon
​
​
Dear Dan,
thanks for your submission.
We are glad to confirm you participation with your performance during the opening of our event LIQUID ROOMS - THE LABYRINTH, It's LIQUID International Art Show, international exhibition of architecture, photography, painting, video art, installation and performance art, that will be held in Venice, Palazzo Ca' Zanardi, from February 10 to 28, 2017. The event is part of the official program of Venice Carnival 2017 (February 11-28, 2017).

Deadline for submission and sending all the needed materials is January 31, 2017.

The participation in LIQUID ROOMS – THE LABYRINTH requires an entry fee only for selected artworks. In attachment you will find the submission form with all details. To take part in the event, send us your filled and signed submission form, and all materials regarding your works.

The registration fee is useful for the management and logistic costs of the event. The fee will cover the following services provided by the organization: venue's renting and expenses; artworks' receiving; installation; global and local press office before and during the event; more than 5.000 printed invitation cards with totems and posters around the city; realization of the event page and event dedicated article; opening organization and ceremony; invitation of collectors, institutions, art critics and interested public to the show; hostess service and collaborators during the opening and for the whole duration of the show; dismounting service and packaging of the artworks ready for the shipping back. Furthermore, after the exhibition's participation you will be interviewed and published on our official press office website It's LIQUID (more than 200.000 readers and subscribers) and social networks.

Waiting for your response.

Thanks for all your time,
Thank you for the lovely talk this morning.
Bad Researchers found new evidence about intelligent life
Yes can you imagine it! The new discovery shows that there is some thinking activity happening somewhere else than here. The shocking results were found using a new innovative tool. The image shows differences in activity spread around measured area. The culinary specialist Ernesto Narinski remarks that the new evidence could be catastrophic for the current way of life. More information was never released about the case.
A few moments later the same group of scientist executed much more closer observations of the presented image and they realised that it was an unidentified portion of food that they enjoyed for lunch. Lead researcher of PJF commented the mambo jambo surrounding the case and negative publicity: "The research goes on although the constant failures and deep disappointments can tighten the belt of a dog. Luckily nobody heard about this."
Tahini uprise scaring the shit out of other food products!
​
"We have no respect for food portions that don't include tahini!", says the spokesperson of Sissyhood of Angry Tahini (SAT). There are at least seven food nations that has been excluded already from the plate within the first week of uprising. The reporters might stop following the uprising due to increasing restrictions of freedom of speech in enlightened countries. The Prime Minister has already ordered the Inquisition to be reformed that unnecessary messengers could be taught a valuable lesson of law and order.
To celebrate 150 years of excellency and national awesomeness Greater Finland Fans has provided new settlements to be admired by the coasts of Mediterranean
This morning researchers couldn't believe their eyes when they opened the good old World Map Book and noticed some strange activity in the Mediterranean area. According to some sources, last night got bit out of hands while fans of greater, bigger and more awesome lands where celebrating 1917-2017 years of invented national pride together with 1947-2017 years of occupy walls and streets. Favourable publicity of military in social media has increased the interest towards playing with weapons. (get it)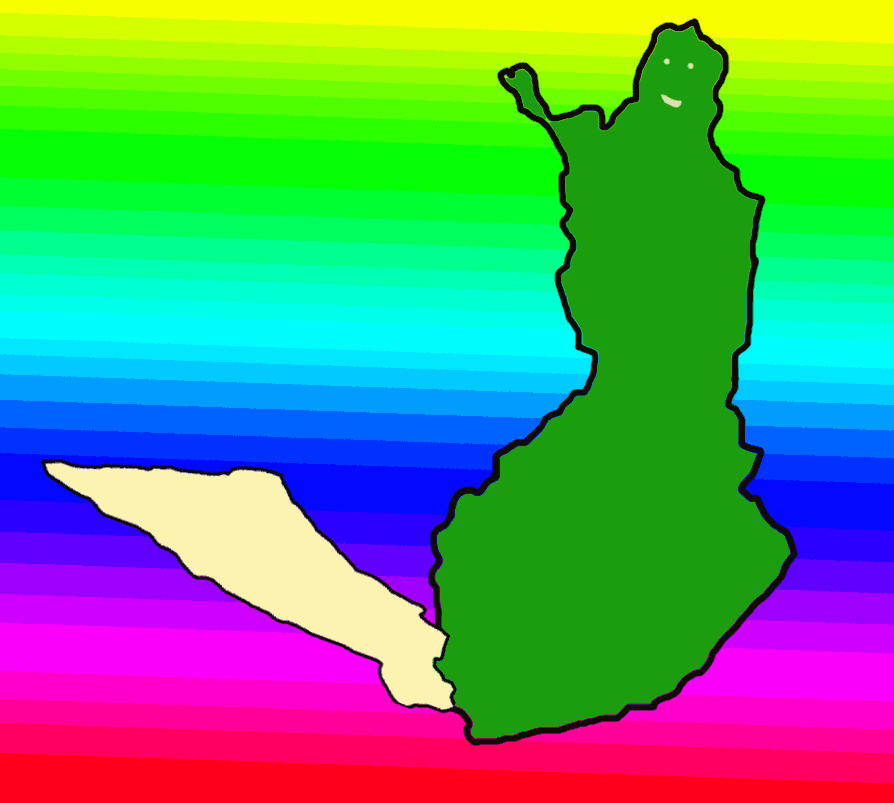 Sissyhood of Angry Tahini (SAT) wishes you happy serious days.
​
The following offers are great for our business:
​
Thank you very much for your urgent response to to me
I am Ms. Liza Wong the Head of Accounting Audit Department of HSBC BANK (HSBC)in Malaysia.
In my department in the Bank where i work, I discovered a sum of $85.5 Million USD In an account that belongs to one of our foreign deceased customers, a billionaire Business Mogul Late Mr.Moises Saba Masri, a Jew from
Mexico who was a victim of a helicopter crash since 2010 which resulting to his death and his family members.
You can see more information about Saba Masri Mr.Moises unfortunate end accident
on the website-link below.
Now our bank has been waiting for any of the relatives to come forth for the
claim but nobody has done that SINCE 2010. I personally have been unsuccessful in locating the relatives,Which the Board of
Directors are planning to share this funds among them-self.
Which i have good heart to use this funds to help the poor and the motherless
home. I seek your consent as my foreign business partner in this transaction to present you as the next of kin/Beneficiary to the deseased, so that the funds of this account valued at $85.5 Million usd can be paid to your local bank account in your country. Also this transaction is 100% free risk, because i have all the legal document with me to make this transaction possible, and the funds we be share 50/50
I want to use part of my funds to help orphanage and motherless child home And i dont know about you.
Please Provide me the following few information about you, as we have few days to run it through.
Your Full Names And Contact Number to proceed.
i will furnish you with more information on this business transaction once i get
your respond back asap.
Best Regard
Ms. Liza Wong
​
From:
Topic: 3208
​
Dear,
​
We are looking for employees working remotely.
My name is Augusta, I am the personnel manager of a large International company.
Most of the work you can do from home, that is, at a distance.
Salary is $2400-$5700.
If you are interested in this offer, please visit our site.
Have a nice day!